(888) 721-1969 Toll Free or
(904) 721-1969 Local & International
1635 FARM Way #403 Middleburg, FL 32068
CR 220 to Heritage Farm Blvd to Farm Way
At the Silos Business Center - CR220 1/2 Mi West of Whitey's
Serving Jacksonville - Orange Park - St Augustine the USA & Beyond
Motorcycle Customizing Services
& Built to order Motorcycles
From Handlebars to Performance Engines
Stretched Saddlebags & Fenders - 21" 26" 30" Wheel Installations
Motorcycle Service
Harley-Davidson - Big Dog - American Iron - Customs - Metric
We do it all & We do it well!

Give us a call
(888) 721-1969 Toll Free
(904) 721-1969 Local Florida






MOTORCYCLES
FOR SALE



Work in Progress


Check out the
BatPod™
Replica we built from BATMAN™
Dark Knight

Chopper City USA, LLC
1635 FARM Way #403 Middleburg, FL 32068
The Silos Business Center
CR 220 to Heritage Farm Blvd to Farm Way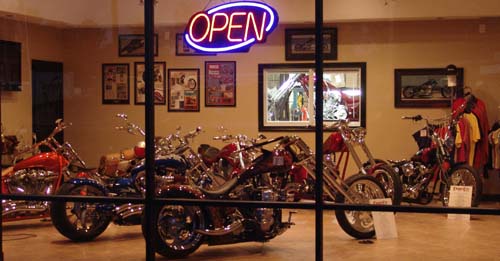 Owned & Operated by Dave Welch
A Licensed Motorcycle Manufacturer & Customizer
Motorcycle Repairs & Maintenance
Motorcycles Parts & Accessories
Jacksonville
Give us a call
(888) 721-1969 Toll Free
(904) 721-1969 Local Florida
(904) 264-1969 Fax
Email
Hours of Operation
10am - 6pm
Monday thru Friday
Saturdays are by Appointment Only
(as of June 2014)
For Saturday pick up or drop off or
for Saturday customizing & build meetings
please call for an appointment
Sunday Closed
DID YOU KNOW WE DO IT ALL?
We Do & We Do It Well!

LICENSED MOTORCYCLE
MANUFACTURER & CUSTOMIZER
When you're serious about "One of a Kind" Choose Chopper City® USA!
Builder Dave Welch
Specializing in custom & customized motorcycles from Mild to the EXTREME !
Bobbers, Choppers, Baggers, Pro-Street, Harley Chopper,
Street Fighter, Hardcore, show winning, dependable motorcycles

SERVICE & REPAIR
Specializing in
American V-Twin Motorcycles
Harley-Davidson - Big Dog - American Iron
Titan & Other Customs
Certified Mechanics on Staff
Low Labor Rates
Discounted Supplies & Parts

PARTS & ACCESSORIES
All Makes & Models
American V-Twin & Metric

GREAT DISCOUNTS
We Can Usually Meet or Beat
J&P & Other Prices
Chopper City® USA, LLC is Orange Park, Florida's
premier custom motorcycle company.
Chopper City® is a licensed motorcycle Manufacturer & Dealer
specializing in "one of a kind" custom
and customized V-Twin motorcycles for
customers worldwide.

Our staff works closely with the customer to anticipate
and exceed the customer's wants and wishes
for a custom built or customized motorcycle.
Most motorcycles are made to order for the customer.
Chopper City USA's Builder & Owner Dave Welch
and staff bring motorcycle manufacturing to the
utmost level of quality and perfection.

Chopper City® is all about the bikes and anything custom!

Stop by anytime
1635 FARM Way #403 Middleburg, FL 32068
The Silos Business Center
CR 220 to Heritage Farm Blvd to Farm Way

Give us a call
(888) 721-1969 Toll Free
(904) 721-1969 Local Florida
(904) 264-1969 Fax
Email info@choppercityusa.com


Give us a call or Email for your own custom or customized motorcycle
by Master Custom Builder Dave Welch






Chopper City® USA Old Showroom



Custom Motorcycles
By Master Builder: Dave Welch





Video Chopper City® USA Showroom & Shops
youtube.com

Custom Motorcycle, Custom Motorcycles, Bat Pod, Harley, Big Dog, Dave Welch, Customized Motorcycles
Dave Welch has built & customized some of the
finest riding, looking & award winning custom motorcycles in the nation.
Choppers, Bobbers, Baggers, Touring, VRods, Hardcore, Softail, ProStreet,
Magnacharger, Bat Pod Replica, Harley Chopper, Fatboys, Single-Sided Swing arms,
300mm, 330mm, old school motorcycles, anything custom!
BatPod, Softail From Hell, Man's Ruin, Green Machine, Robert's 124ci Chopper,
Phatboy & V-Rod, Black Wicked Chopper, Hardcore Bobbers,
Capt. Millennium, Retro Choppers, Fembot, Back to Basics, Silver Chopper,
Red Chopper, Burnin' Money, Ian's Hardcore, Chancellor's Chopper, 300 RSD, BatPod Replica,
Martijn's Mean Clean Machine,
Peter's Stacked Beast, custom Baggers, 26" front wheels, just to name a few.


Give us a call or Email for your own custom or customized motorcycle
by Master Custom Builder Dave Welch




Chopper City® USA Licensed Motorcycle Manufacturer & Customizer
This is the official website of Dave Welch Originals.
All images and content are the property of Dave Welch
and are not to be reproduced without written consent.

Chopper City® is a registered Trademark
Keep in mind:
The owner of a registered trademark may commence legal proceedings
for trademark infringement to prevent unauthorized use of that trademark.

The following are official websites for Dave Welch Originals :
www.choppercityusa.com
www.evoparts.com
www.vtwinparts.com
www.hd-mall.com
www.baggercity.com





Visit our EBay Store